What is Kokomo24/7's standard SLA?
Our service-level agreement (SLA) is comprised of four priority tiers: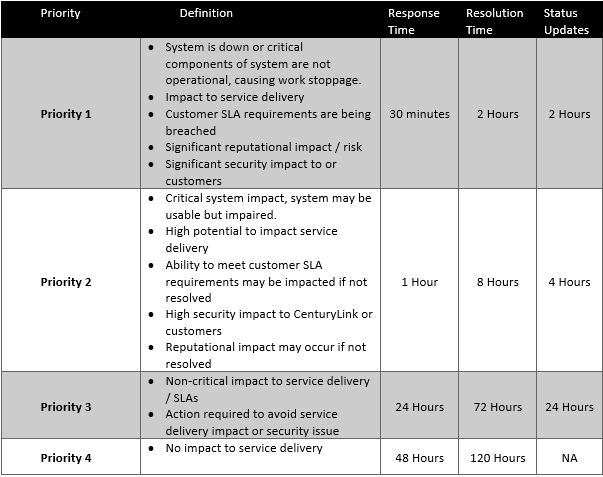 Support Location
Kokomo support staff is located across North America and East Asia. The United States locations include Washington D.C., New York City, Chicago, and Southern California. Their normal business hours will cover 9:00am - 5:00pm (ET) and 8:00am - 5:00pm (PT).
Online support for Kokomo solutions is 24/7/365 based on priority set by Kokomo. Infrastructure and software services are supported 24/7/365 by Amazon Web Services.
Escalation Procedure
During a critical system failure or natural disaster, Kokomo provides a 24/7/365 full support system.
Kokomo provides a 24/7/365 full support system consisting of
End User: Issue reporting within Kokomo24/7® application or by email
Support Center:

Tier 1 email with a 24-hour response

Service Operation Center:

Tier 2 live person outbound call only
Tier 3 engineer interact with Tier 2 support

Management: aggregation of issues and monthly review
In the event of a failure, the Kokomo Support Center can be contacted directly through the applications' report function, or by e-mail or phone to receive immediate tech support.