Wondering how Safety Cloud™ application works? Check out our manual and learn how the magic happens.
COVID19TrackerTM Manual
Specification
Version
COVID19Tracker™ Self -Reporting System (SRS) is built on Kokomo24/7® Safety Cloud™.
In February 2020, Kokomo repurposed its three (3) core products – Anonymous Reporting, Incident Management, and EOC Management into COVID19Tracker™. Since then, it has been continuously updated to meet the demands of the communities, schools, and corporations. By May 2020, it became one of few in the market to have Contact Tracing and Self Screening on top of a comprehensive case management system specifically built to help organizations achieve Return-to-Work initiative.
Technology
COVID19Tracker™ has built on the cloud from scratch. As of today, it is built on AWS with some of its latest services, including but not limited, Serverless (Lambda), RDS, API Gateway, SNS, S3, VPN, and VPC.
Credits
Kokomo24/7® Safety Cloud™ is a patent-pending safety solution
COVID19Tracker™
ContactJuxtaposer™
Registered Trademarks
Kokomo24/7®
TruScore®
Personal Safety Cloud®
Contact
Email: support@kokomo247.com
Phones:
Main: 565.6668
Fax: 565.6668
Postal Mailing: 2700 Patriot Blvd. Ste 250, Glenview, IL 60026
Getting Ready
Environment
COVID19Tracker™ is a combination of mobile and cloud software:
Mobile application
Web application
Your organization has a different set of features turned on.
Triage (Anonymous) Reporting
Self-Screening
Case Management
Triage Reporting:
ARS license is "on"
ARS feature is assigned to the role the user is in.
Self-Screening:
SRS license is "on"
SRS feature is assigned to the role the user is in
Case Management:
IMS license is "on"
IMS feature is assigned to the role the user is in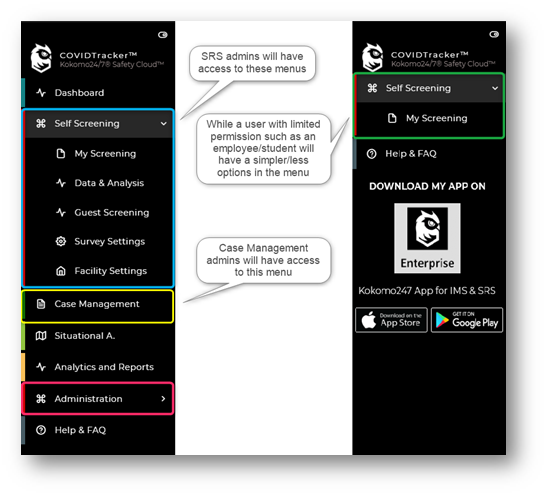 Main Menu Options 1
Get Started
Sign-up or Invite
When a user is added to COVID19Tracker™ by an admin of your organization, the user will be receiving an invitation email that looks like the below figure.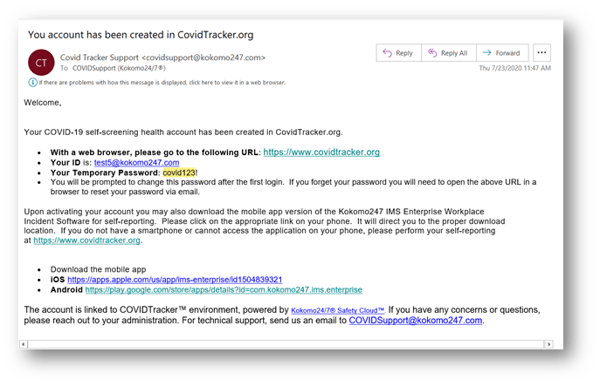 Main Menu Options 2
COVID19Tracker™ uses an email as "ID" to the system. The credential is managed and stored by AWS's Cognito service. It is a secure industry-standard Claim-based authentication service. Your ID and password are securely maintained.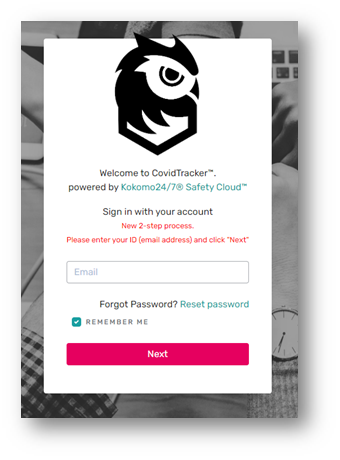 Log in Page
Enter ID (e.g. test5@kokomo247.com)
Enter the password and click "Sign In"

If this is the first time using it, please note the temporary password in the email (e.g. covid123!)

A reset password option is available.
COVID19Tracker™ has been implemented with scope-based and role-based access control. This means that a user's privilege within the system is controlled based on the level a user belongs to and the role it is assigned in terms of using a specific part of functions.
An admin user – who has given all the authority – manages the security level of other users.
First Time Logging-in
If it is the first time the ID is used to enter the system, it will be asking the user to change the password.
Main Menu
COVID19Tracker™ will display the landing page with the main menu upon successful login. The landing page is also called "Dashboard" which is the top-most menu option.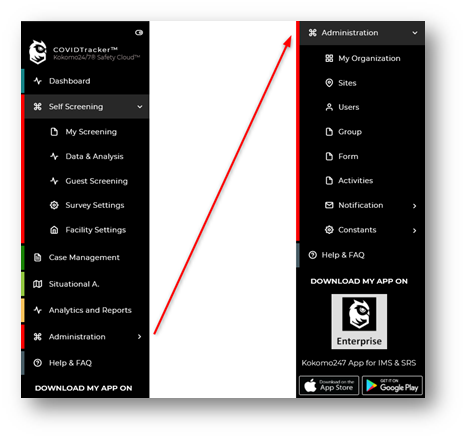 Main Menu
Dashboard: The landing page is also called dashboard because this is where various data points about the scope the user is allowed rolls up and displayed in "Tiles" so that the user can have a sense of overall cadence of the organization.
Triage Reports (ARS): One of the main features called ARS, an Anonymous Reporting System If it is turned on, this is where all the anonymous reports will be staged, thus called "triage." These reports can be disseminated here optionally promoted to be a "case" in which case will create a record in the "Case Management" menu below.
Self-Screening (SRS): Self-Reporting System (SRS) function is housed under this menu. Depending on user access level, it displays 3 sub-menus,

My Screening – Web version of report submission.
Data & Analysis – Admin's view of statistics, graphs, reports, and charts.
Survey Settings – Admin's view of the configuration of SRS.

Case Management (IMS): The core of COVID19Tracker™ a.k.a. IMS (Incident Management System) where the full life cycle of cases is recorded and managed. Also, the contact tracing feature is embedded in the case management system. This menu also contains ContactJuxtaposer™ function as well as a heatmap (GIS).
Situational Awareness: A publishable map (GIS) with statistics is available here.
Analytics and Reports: Case related charts, reports, and export options are available here.
Administration: This is where the admin of an organization configures various aspects of the system. Because the COVID19Tracker™ is highly configurable, this section alone requires a chapter of explanation in this document. In short, this is where an admin will manage sites, users, forms, notifications, issue types, etc.
More detailed information on each menu or feature is further described within this document.
My Screening
How to get here
Click the "Self-Screening" menu from Main Menu
Click the "My Screening" menu from Self Screening menu
Anatomy of the My Screening (Web)
The screenshot below shows the core components of the screen.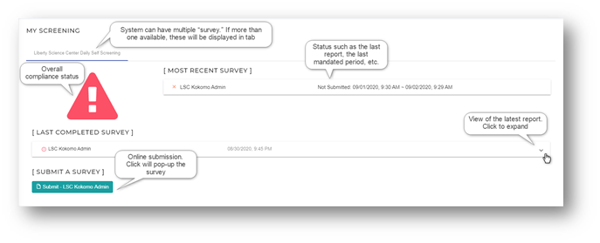 Anatomy of My Screening
Typical Workflow
Sign-in è [Self Screening] è [My Screening] è Submit a Survey
Fill out a new Survey (Web)
Click "Submit a Survey"
It will pop-up the form.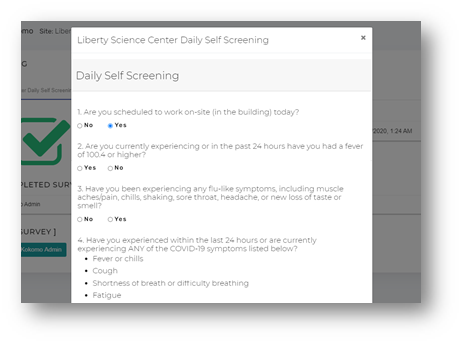 Self-Screening Web Version
Click "Complete"

Confirm the icon changed
from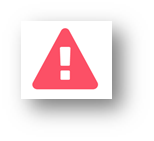 to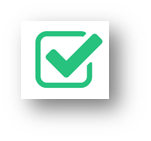 Confirm the info you entered by clicking the line.

Click the line will expand.

Last Report Review
Fill out a new Survey (Mobile)
Download Mobile Apps

PROD

SANDBOX

Sign In

Provide Email and click "Next"
Provide Password and click "Login"
Accept Cognito warning "Continue"
ID is cached for 1 hour by default.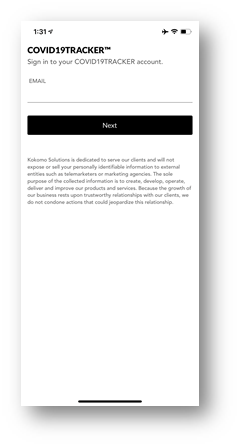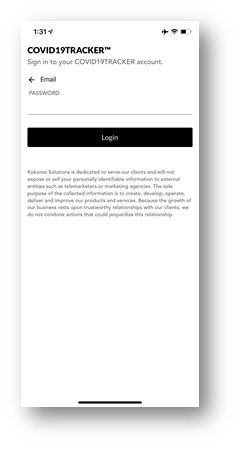 Landing page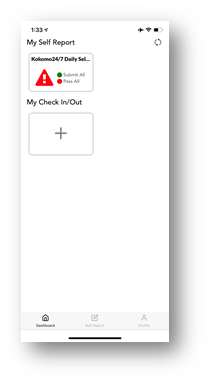 Anatomy of the mobile landing screen (Mobile)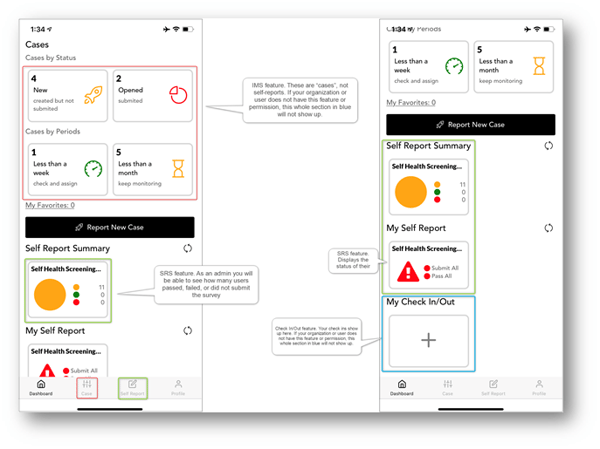 Note that, depending on what features are enabled for your organization and assigned to the user, the mobile application may show different buttons.
The self-screen feature is highlighted with green boxes.
The badge button(s)

You will have the same number of buttons displayed based on the number of surveys set in the "Survey Setting"
It is left-and-right scrollable

Self-Report tab

To view past reports
To submit a mandated report

Submit A Survey button

"Submit A Survey" button may be active if there is a survey that needs to fill in
"Submit A Survey" button may be inactive with a date and time. The date and time displayed. It is an indicator when a user can submit the next report.

View History (Review)

Clicking any of the line items displays the past report (read-only) without any button to "save".
Users will be able to edit the survey response for the active survey period only. In this case, the survey will be displayed highlighted at the top of the survey list.
Users can go back by clicking the back arrow at the top left corner.
Data & Analysis
How to get here
Click the "Self-Screening" menu from Main Menu
Click the "Data & Analysis" menu from Self Screening menu
Anatomy of the Data & Analysis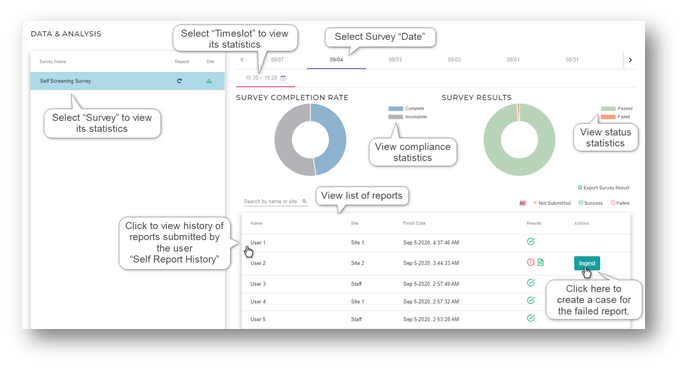 Data & Analysis 1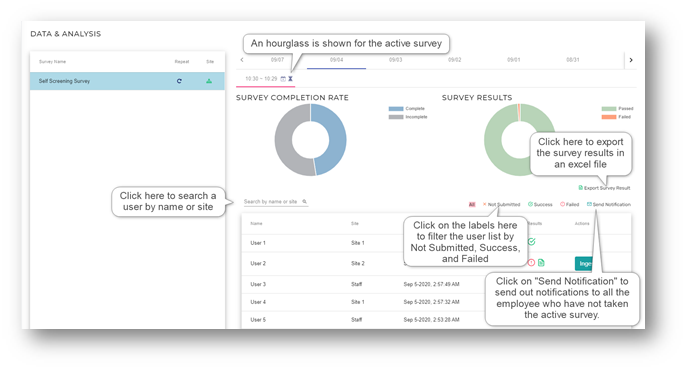 Data & Analysis 2
Self Report History by User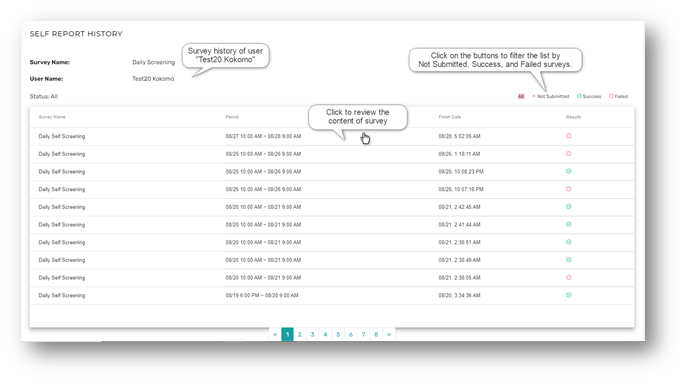 Self-Report History List
Self Report History and Review
Clicking a line item from the History list opens the report content for review.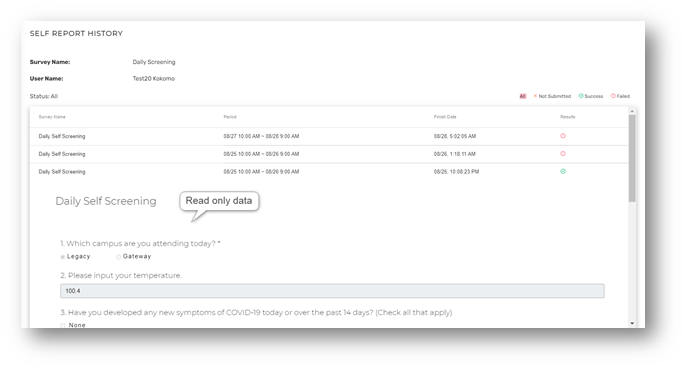 Self-Report History
Survey Settings
How to get there
Click the "Self-Screening" menu from Main Menu
Click the "Survey Settings" menu from Self Screening menu
Versatile Survey System
The system allows an organization to collect multiple surveys.

A way of utilizing this function is that you can use the system to collect "Consent Form" as well as "Daily Self Screening"

Each survey is time-bound.

You can use different survey for temporarily vs. permanently.

Each survey can target different locations, allowing an organization to use different questionnaires based on location (or site).

A typical use of this function is when you want to ask a different set of questions based on the employee's location. For example, employees in CA may use one set vs. other states.
In summary,
Each survey is time-bound.
Each survey is mandated in timeslots.
Each survey is targeted based on location (sites).
Each survey is mapped to one form, which is created and maintained in the Administration menu.
Existing Surveys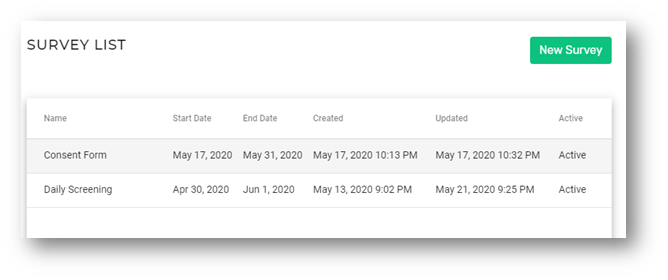 List of Surveys
New Survey
Click "New Survey"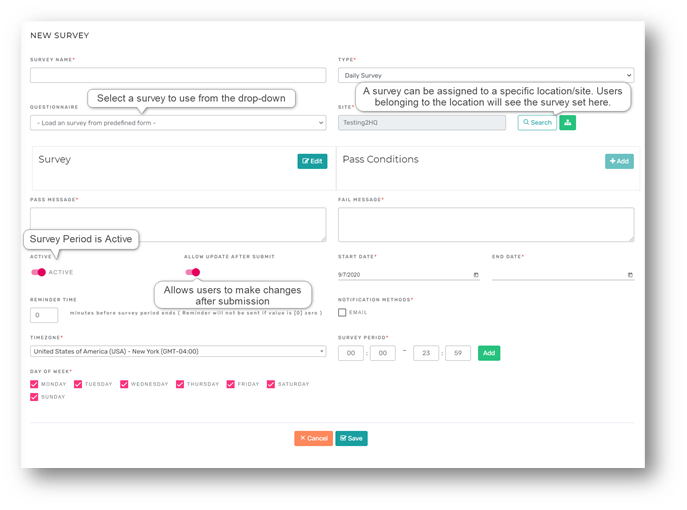 New Survey
Provide a name to the survey
Select a form from the "Questionnaire" list.
Provide a date range

Provide Pass/Fail messages
Select the site location for which you would like to activate the survey

Adding New Form in Admin Menu
Administration > Forms
or https://www.covid19tracker.org/form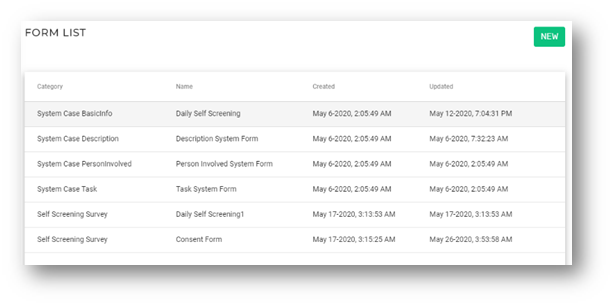 List of Forms
Click "New"

Drag and drop controls to construct a form.
Ensure the form is set "Self-Screening Survey"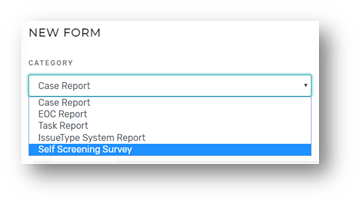 This will ensure the form is available in the "Questionnaire" drop-down in Survey Setting page https://www.covid19tracker.org/self-report/survey.
Survey Detail
Product management involves two aspects: products, and assembly. Products are the list of items that will be callable from a sale or purchase order whose inventory as well as other attributes – such as cost, name, category, and prices.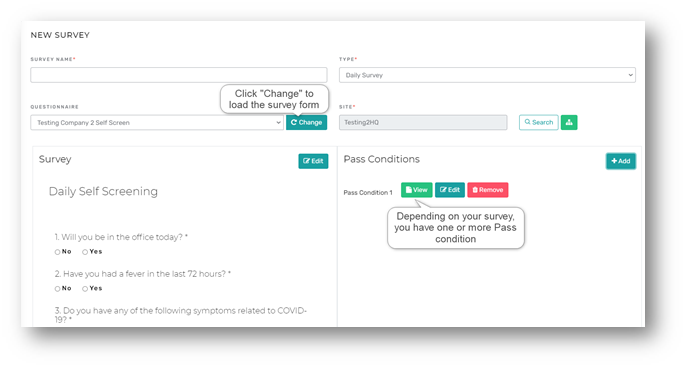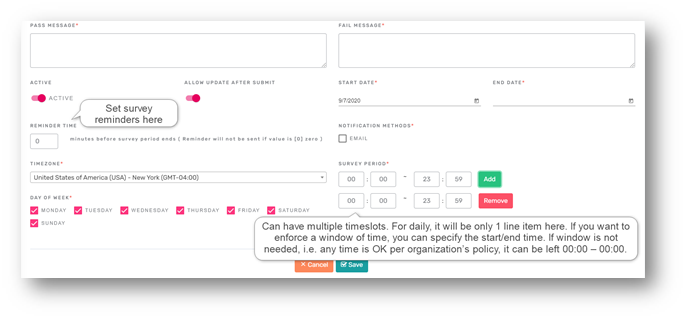 Survey Detail
Notification Settings
How to get there
Click the "Administration" menu from the Main Menu
Click the "Notification" menu
Notification Types
You can set the following notifications
Case Notifications

New – This email notification is sent when a new case is saved as a draft in the system.
Submitted – This email notification is sent when a new case is submitted in the system.
Updated – This email notification is sent when an open case is updated by someone.
Close – This email notification is sent when a case is closed.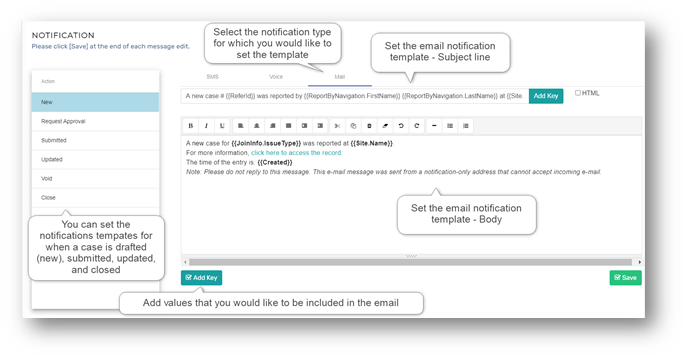 Self-Report

Not Submitted

This is the reminder email that is sent to the users who are yet to submit the survey.

Failed Survey

This is the email sent to the admins to alert them that someone from the organization has failed the survey.

Period Report

This is the survey summary email sent to the admins towards the end of the survey period.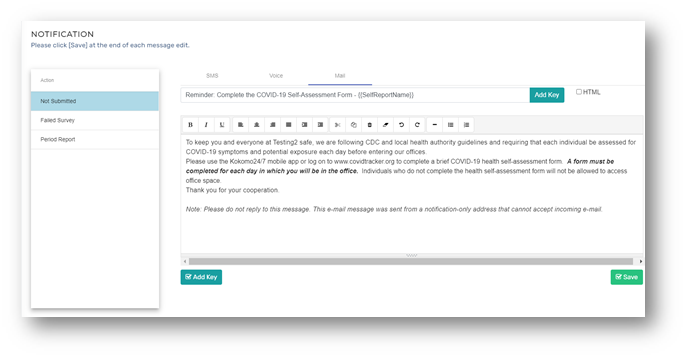 System

This is the invite email that the system sends to the new Active users.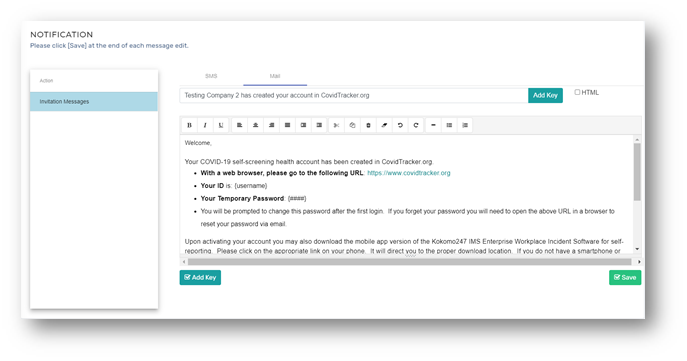 Maintaining Environments
My Organization
Activity Logs
The system tracks the activity logs of every user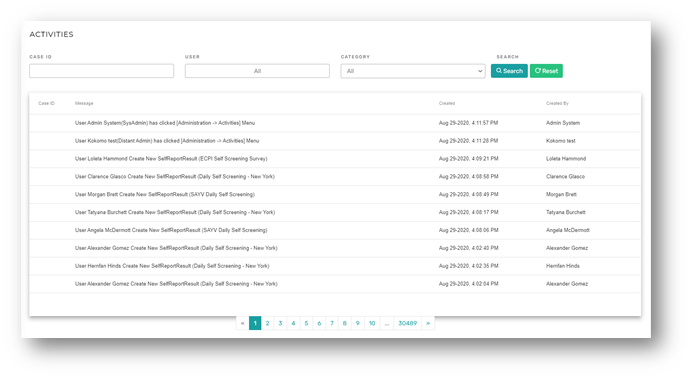 Activity Log